Summer 2018 approaches and with no less than five Caribbean Carnivals coming up and Jamaica Carnival just ended, my timeline has been filled with costumes.
They look beautiful. It used to be that Trinidadian costumes were far out ahead of the other islands but in the past five years or so, everyone has really closed the gap.
In fact, they've closed the gap so much that it's becoming harder and harder to tell the costumes apart.
Obviously I'm not being literal so don't no-one bound in here being annoying. But with a handful of 'super-designers' designing  across the region and artistry fading as a consideration (an age-old dilemma I've dealt with time and again here), there is a numbing similarity in what we're seeing.
Seeing it? No?
Now?
Yes there are some straightforward differences in colour, cut and positioning of certain elements but when you look across the landscape there is a lot that is the same.
The colour combinations seem to follow certain formulae. Purple costumes is frequently accented with pink. Occasionally blue or teal. Army green goes with orange. Yellow or orange with pink. etc
Almost every concept seems to require a feathered backpack. Lawd knows my love of feathers on costumes is well documented but it's gone past ridiculous now.
The head pieces are boring. You get either a tiara or a feathered headpiece and that's generally all folks can think to put on your head.
The actual elements of the costume are limited and little is done with what they do use. You have the bodywear, headpiece and backpack to depict your 'theme' and that's it. Rarely an interesting leg piece. Waist bands are a thing of the past. Capes make an occasional appearance. Skirts? No.`
In this at least, Trinidad remains our leader as K2K and more recently Lost Tribe try to push the boundaries of mas. They have experimented with fringe, tulle, lace and other materials to pull us away from the ubiquitous feathers while still being sexy. We wish more would follow their example.
Let me pause here to shout out to Antigua's Insane Carnival who have pushed the envelope with their 2018 presentation Uprising: The Revolution.
However in general, lack of originality, research or thought into costumes is evident.
So I'm going to suggest a few sources of inspiration that our costume designers can pull on to help expand the boundaries of mas.
1. Rhythmic gymnastics – yes, I know it seems random but have you ever looked at the costumes those girls wear? Their leotards tend to be works of art – so much more  dramatic and fun than the artistic gymnastics outfits. A lot of inspiration on bodywear that depicts different themes in the fabric and cut itself could be mined from this sport.
2. Beyonce. She's had amazing concert outfits for years but now all we really need is one word – Beychella. I need a costume inspired by this – cane included. I feel it would be a great wuk up prop, much like the flags/standards of old.
3. The Met Ball. Fashion's big ball serves up plenty of inspiration from the red carpet looks on display many of which are thisclose to being costumes. Some years, the theme lends itself more to costuming than others.
For instance, 2016's  'Manus x Machina' was silvery and spectacular, leading to some fabulous looks that could inspire a costume designer.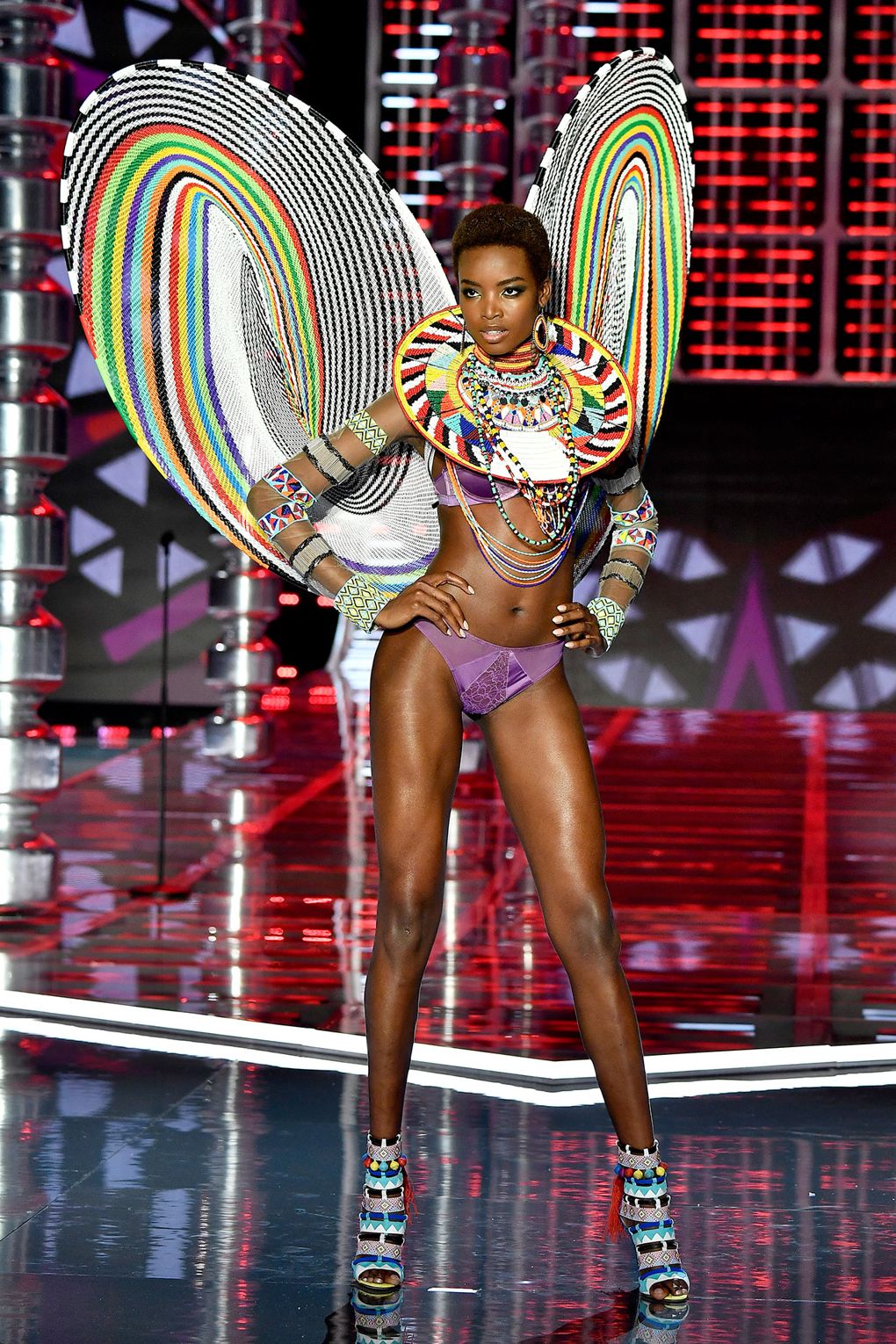 4. Victoria's Secret Show. Now if you want ideas on how to make fantastical costumes with very little cloth, the annual VS Fashion show will show you how. Remember, at the end of the day, this whole production is to pitch panties and bras. There's not much there in the way of bodywear but yet they manage to present them in such imaginative ways that each panty set becomes a full on costume.
5. Festival fashion – especially Afropunk. Have you seen how they dress at Afropunk? It's two days of carefree black girls and boys with flowers, cowrie shells, African print fabrics and retro looks. The fiercely stylish patrons have distinctive looks that could definitely inspire a costume or two.